Motor vehicle theft statistics.
The NMVTRC's CARS service collect details on every vehicle theft reported to Australian police. A range of interactive data tools and services are available at a national, state and local level.
Read more about CARS
Background
CARS has been fully funded by the NMVTRC since September 1999. The NMVTRC's significant investment provides a single, nationally consistent data source that enables easy and meaningful comparison across more than 40 data providers.
CARS is based in the South Australian Attorney General's Department and started as an initiative of the South Australian Vehicle Theft Reduction Committee. They recognised that timely, detailed and accurate information from a wide cross section of sources was needed by government and industry stakeholders to develop effective theft reduction strategies. Based on its South Australian success, CARS was contracted in 1999 by the NMVTRC to expand nationally.
CARS utilises modern data warehouse technology to produce nationally consistent data classification across all data sources. The result allows easy and meaningful comparison between stolen vehicle data, the registered fleet and insured vehicles.
CARS provides the evidence base that helps drive the NMVTRC's vehicle theft reforms and provides its services to all Australian stakeholders with an interest in vehicle crime.
Awards

In 2004, CARS won the International Association of Auto Theft Investigators (Australasian Branch) award for "Outstanding Contribution to the Reduction/ Prevention of Motor Vehicle Theft in Australasia".
In 2009, CARS was awarded a Certificate of Merit in the Australian Crime and Violence Prevention Awards. The awards reward good practice in the prevention or reduction of violence and other types of crimes in Australia.
Release of CARS data
Data sources
Police
Detailed theft incident, recovery and vehicle details from every Australian State and Territory Police service. Data from January 2000 onwards - 1.76 million rows.
Insurance
Policy and claim details from participating insurers. Data from July 2000 onwards - 404,146 rows.
General tools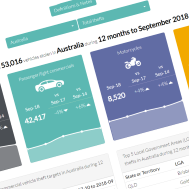 Theft watch
The NMVTRC's quarterly statistics based simple interactive tool of top level motor vehicle theft statistics for Australia and all states/territories based on the latest 12 months of data.
Open theft watch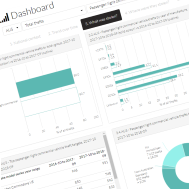 Dashboard (public)
Quickly visualise key national and state/territory statistics with interactive tables and drilldown charts. See current trends along with what is stolen, when and where.
Open dashboard (public)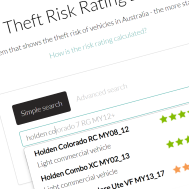 Theft risk rating
What is the risk of your car being stolen? This simple five star rating shows which PLC vehicles manufactured from 1993 onwards, are most at risk of being stolen in Australia.
Open theft risk rating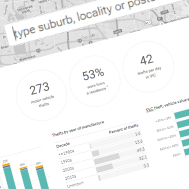 Local theft profile
Car security begins at home. Search for a locality and view a quick local theft profile to find out how many motor vehicles were stolen in your area in the past year.
Open local theft profile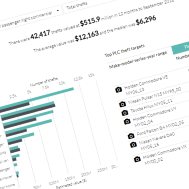 Market segment profile
Use this tool to explore Passenger/light commercial (PLC) market segments and discover Glass's Guide estimated vehicle values and top theft targets.
Open market segment profile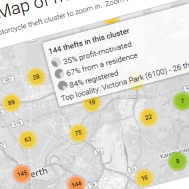 Motorcycle cluster map
Interactive map of motorcycle theft suburb clusters across Australia. By understanding the theft risk in their local area, riders can take action to protect their motorcycle.
Open motorcycle cluster map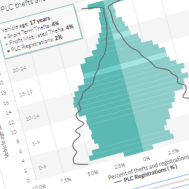 Age theft profile
Use the play/pause button in this tool to see how PLC age profile of thefts and registrations in Australia and every state/territory has changed over the last 5 calendar years.
Open age theft profile
Stakeholder tools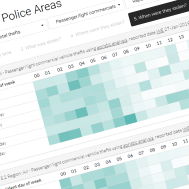 Dashboard (restricted)
Dashboards for stakeholders such as New South Wales Police enable customised, monthly interactive statistics to be delivered to key people across an organisation.
Open dashboard (restricted)
LGA mapper
Stakeholders can interactively map by LGA across Australia with simple data selection, filtering and comparison. Downloadable two page theft profiles for every LGA are available.
Open lga mapper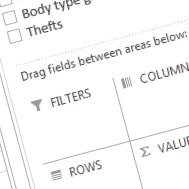 Offline data cubes
Stakeholders can download an offline data cube for use with Excel. It has 25 Police variables from the year 2000 onwards. A registered vehicle summary is also available.
Open offline data cubes