Motorcycle theft.
Close to 9,000 motorcycles are stolen in Australia each year. Owners of on and off-road motorbikes, all-terrain vehicles, scooters and
mini bikes
are falling victim to the crime every day. Motorcycles are particularly difficult to protect due to their ease of portability, the high demand for parts and poor identification. Explore this page to find out
where motorcycle theft is occurring
and
what you can do to reduce your risk
.
The facts
Despite accounting for just 5 per cent of registrations, motorcycle thefts now amount to 1 in 6 of all stolen vehicles in Australia.
Newer model motorcycles are more often the target of theft with almost 3 in 10 stolen aged 5 years or younger.
Sales of on-road motorcycles (excluding scooters) have fallen by 18 per cent in the first 6 months of 2019 compared to the same period in 2018, whereas sales of scooters increased 19 per cent. Scooters also make up the highest proportion of motorcycle thefts, followed by on-road sports bikes.
Motorcycles with an engine capacity of 150cc or less are the top theft targets such as scooters and mini bikes, closely followed by motorcycles with an engine capacity of 251-500cc.
Almost 2 in 3 motorcycles are stolen from the home.
1 in 6 motorcycle theft victims have previously been a victim of theft.
Over half of motorcycles stolen are not recovered.
What can you do?
Park wisely
When commuting, park in well-lit areas and use designated motorcycle parking areas and anchorage points where possible.
Research shows that almost 2 in 3 motorcycles are stolen from residential locations. When at home, try to park behind lockable gates or in a locked garage and, importantly, secure your bike by locking it to an immovable object or anchorage.
Use a motorcycle cover to conceal your bike – few will risk blind theft.
Secure your bike
Make sure your motorcycle is insured.
Always secure your motorcycle using the steering lock.
Also use a manual locking device such as a disc lock, U-Lock or chain and padlock. A high tensile chain and matching security lock through the rear wheel or frame of the bike and secured to railings or a convenient lamp post will deter an opportunistic thief.
Invest in a good alarm to go with your lock – don't let your bike go quietly.
Consider installing an engine immobiliser to ensure the bike cannot be driven away.
Be sure to record the motorcycle's VIN - a 17 digit number that uniquely identifies that bike – so that if your bike does happen to be stolen, you can report it to police. Doing so you will increase the chances of your motorcycle being recovered in the case of it being stolen.
Purchase smartly
Be sure to consider security features when purchasing your motorcycle. Ask your dealer what sort of security the manufacturer has adopted to help you make an informed decision. The NMVTRC supports the application of VIN-based microdots at manufacture. Yamaha and KTM motorcycles are both adopters of this technology.
If buying from a private seller conduct a PPSR check to ensure the vehicle is not under finance, or listed as stolen or written-off. Visit ppsr.gov.au for more information.



What's your theft risk?

See which areas are commonly targeted using our interactive map of motorcycle theft suburb clusters across Australia.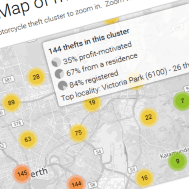 Off-road motorcycles
Almost 3 in 5 of total motorcycle sales are of off-road bikes, and less than half of these bikes are registered. This makes theft of off-road motorbikes particularly problematic as they are not affected by the registration inspection practices that have been developed for registered vehicles. However, there are still precautions you can take to reduce your risk of theft and improve the chances of your bike being recovered:
Where possible, store the bike in a locked garage or behind lockable gates.
Most will still have a Vehicle Identification Number (VIN)—a 17 digit number that uniquely identifies that bike. The VIN is usually located on the frame and is also recorded on the 'contract of sale' paperwork you will receive upon purchasing the motorcycle. It is important to record the VIN and keep it in a safe place so you can include it any reported theft to police - doing so you will increase the chances of your motorcycle being recovered. When purchasing a motorcycle second-hand be sure to find out the VIN from the owner if you cannot locate it on the bike.
Reports and useful links
Spokes
A website for motorbike riders in Victoria which aims to provide information about safety on the road and off-road